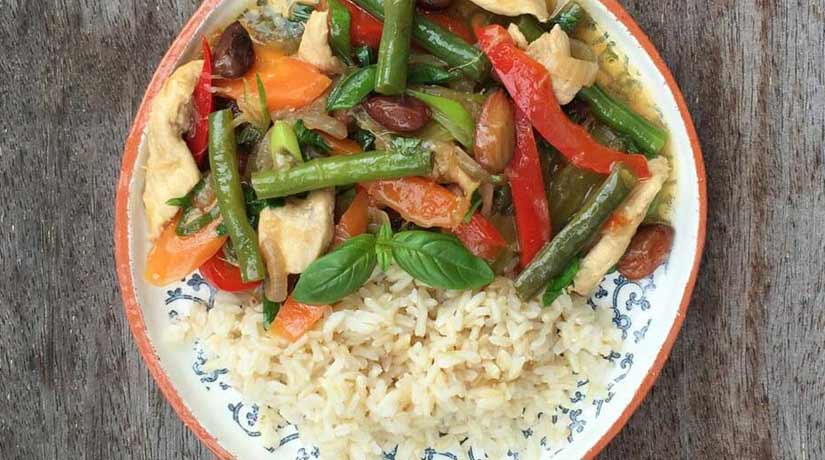 Chicken, Basil & Almonds
One of our favourite Spring dishes at home – warm but not too warming – if you know what we mean. The almonds really make this recipe adding extra texture and flavour and combined with the coriander and basil, delicious.
Serving Size: Serves 4
Ingredients:
500g chicken fillets (sliced into bite size pieces)
2 cloves of garlic (finely grated)
1 tablespoon fresh ginger (finely grated)
1 red onion – sliced
1/2 cup almonds – skin on or blanched
2 tablespoons olive oil
1 cup sliced beans
1/2 cup sliced celery
1/2 cup sliced red capsicum
3 cups chicken stock (homemade or store bought)
2 tablespoons corn flour or thickener of your choice (tapioca works well if gluten free)
1/2 cup coriander leaves (chopped)
1/2 cup basil leaves (chopped)
Method:
Steam the beans, celery and capsicum for a few minutes and set aside.
Heat the olive oil and fry the almonds until golden brown. Remove from the oil and drain on paper towel.
In the same pan saute the onion for 2 minutes then add the chicken and saute for another 2 minutes. Add the garlic and ginger and cook for another 2 minutes.
Add one cup of chicken stock and simmer for 10 minutes.
Blend the cornflour with the remainder of the stock then add slowly to the pan.
Bring to the boil and cook fro 3 minutes stirring continuously.
Turn off the heat and add the steamed vegetables, tamari and fresh herbs.
Can be served on its own or with rice or quinoa.
Gluten Free | Dairy Free | Refined Sugar Free
About Author