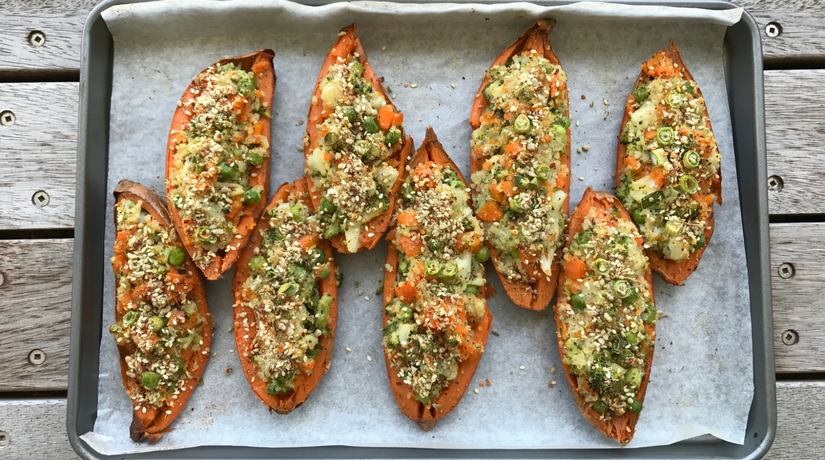 Dukkah & Quinoa Stuffed Baked Sweet Potato
Another wholesome recipe from Sarah Follent of Baked Livingness.  It's easy to make with simple flavours and….. a great vegetarian and vegan dinner option.
Ingredients:
3 medium size sweet potatoes
1/2 cup cooked organic white quinoa
3 shallots (finely chopped)
3 tablespoons dukkah spice
1 teaspoon garlic powder
1 tablespoon olive oil
1/2 cup of cooked veges of choice (we used broccoli, carrots, cauliflower and peas)
Salt & pepper to season
Method:
Pre-heat your oven to 180'C
Drizzle olive oil, salt and pepper over the sweet potatoes on foil, then wrap & place them in the oven for 60 minutes or until cooked through.
Allow potatoes to cool then halve and scrape out some of the potato in the centre to make a medium hole.
In a mixing bowl combine the potato with all other ingredients and mix well (save some of the chopped shallots for the next step).
Scoop the mixture back into the potato skins and top with extra shallots, dukkah and any other herbs you like.
Place back in the oven for another 15-20 minutes to crisp.
Serve hot. Enjoy!
Gluten Free | Dairy Free | Vegetarian | Vegan
About Author