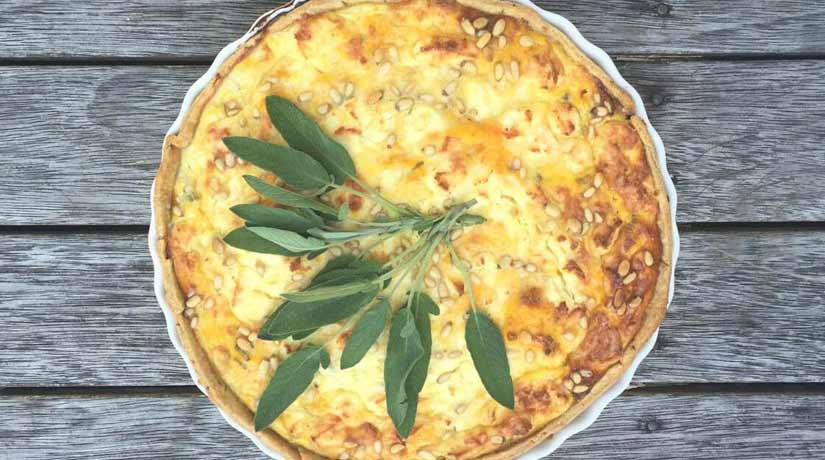 Roasted Garlic, Sage & Pumpkin Pie
We baked this delicious pie on the weekend to share with you all (ok so it was also for us to eat and enjoy). As we are all garlic lovers, we made this one super garlicky and the combination of sage with pumpkin was perfect. Enjoyed by all, we had it for dinner two nights in a row.
Here's how we made it:
Ingredients:
900 jap pumpkin (chopped into cubes)
5 cloves of garlic (unpeeled)
1 tablespoon olive oil
4 eggs, lightly beaten,
1/2 cup cream
1/4 cup diced fresh sage
75 grams fetta
1 1/2 tablespoons pine nuts
For the pastry:
3/4 cup wholemeal plain flour
3/4 cup white plain flour
1 teaspoon ground coriander
1 teaspoon cumin seeds
125g cold butter, coarsely chopped
1 egg yolk
2 tablespoons iced water (approx)
Method:
Preheat your oven at 200'C and bake the pumpkin and garlic on a baking tray drizzled with a little olive oil. Bake for 20 minutes or until tender. Transfer to a large blowl and allow to cool for 3-5 minutes.
Mash the pumpkin and garlic (removing skins first) with a fork stirring in the eggs, cream and sage and season with pepper and salt.
Now for your pastry…..
Process the flours, spices, and butter until crumbly. Add the egg yolk and almost all of your water, and process until ingredients all come together.
Put your pastry into a plastic wrap and refrigerate for 30 minutes.
Grease a large pie tin and line the tin with the pastry pressing into the side and trimming the edges. Refrigerate for a further 30 minutes.
Reduce the oven to 180'C and place the tin on an oven tray, covering the pastry with baking paper and filling with dried beans or rice and bake for 10 minutes.
Remove the paper and rice/beans and bake for a further 5 minutes or until browned lightly. Then cool.
Fill the pastry with the pumpkin mix and sprinkle with crumbled fetta and pine nuts. Bake for 35 minutes or until set and browned.
Inspiration:
Enjoy with some fresh green leaf, cucumber & avocado.
Vegetarian | Refined Sugar Free
About Author