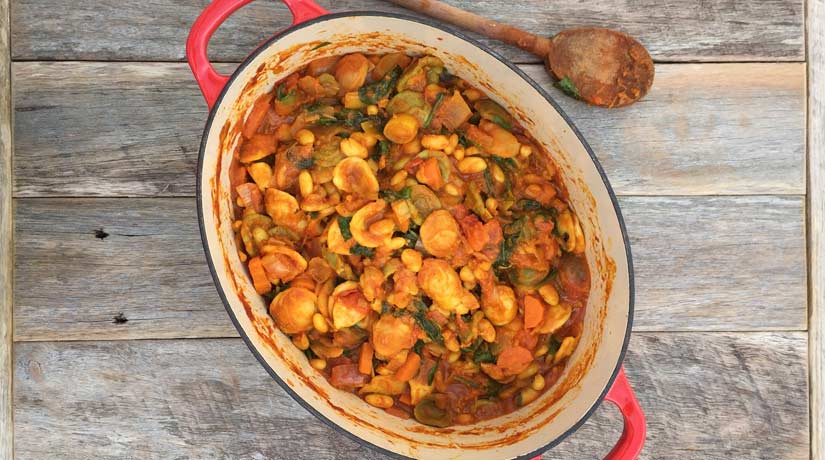 White Bean & Orecchiette Stew
We made this delicious stew over the weekend. A hearty mix of cannellini beans, tomato, spinach and pasta, a big hit with all. Lets just say the left overs didn't last long.
Great served piping hot with a crusty loaf.
Ingredients:
2 tablespoons Olive oil
1 red onion diced
2 cloves garlic crushed
1 leek, white part only, sliced
1 large carrot diced
2 teaspoons Mild curry powder
½ teaspoon ground cinnamon
½ teaspoon turmeric powder
425g tin crushed tomatoes (or 5 whole tomatoes diced)
2 teaspoons balsamic vinegar
1 cup cooked organic cannellini beans
1-2 cups orecchiette pasta
1-2 handfuls of fresh spinach, de-stemmed and loosely chopped
Salt & pepper to taste
Method:
In a large saucepan on medium heat sauté the onions, leek, garlic and carrot in the olive oil. Cook down until onions are translucent (5-10 minutes)
Add in the spices, tomatoes and balsamic vinegar and stir well.
Add the cooked cannellini beans and pasta, adding enough water to just cover all of the ingredients. The stew will thicken as every cooks.
Turn the heat down to low and let it cook for about an hour until the pasta is soft but still has bite.
Just 5 minutes before serving, add the spinach, salt and pepper.
Inspiration:
For those who are gluten free you can easily replace the orecchiette pasta with a gluten free alternative. We recommend you try our Rice & Quinoa Penne.
Dairy Free | Vegetarian | Vegan | Sugar Free
Save
Save

Shop Recipe Ingredients
[products ids="23565,17027,26760,19097″ columns="4″]
\
About Author